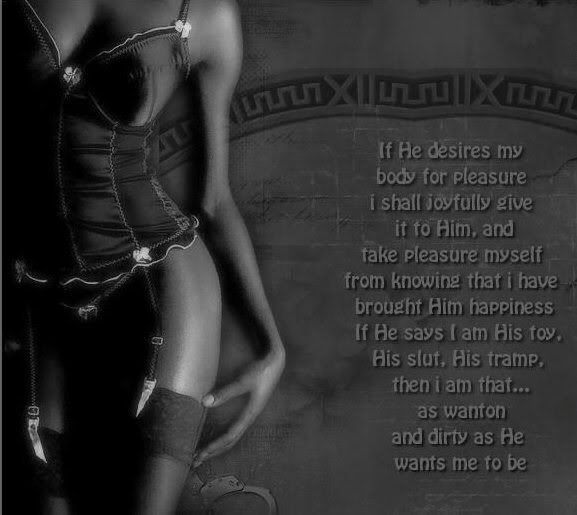 Have you ever had moments of doubt when it comes to your submission?
I'm not quite sure if you mean doubting my submission or doubting my choice to submit here so I'll answer both.
I don't doubt the fact that I am submissive in the slightest. I've pondered this a lot actually and when looking back at most of my relationships in the past I see a girl who was desperate to be dominated in a positive way. (Long story short I was in some negative relationships where I was basically forced into submission – long before I even knew what that word meant). Ever since I was a kid I would play games of a damsel in distress and in my mind I'd wonder what happened if Prince Charming didn't save the Princess. I would read one of those trashy romance novels and always be unsatisfied if the "good guy" got the girl. I wanted to see what happened if the dark and "dangerous" guy kept her. Granted there are a few stories out there like that but in the ones I would read the "dangerous" dude always turned out to be a big teddy bear. Bleh. I just wanted someone who could take my stubborn streak and tame it; by force if necessary. The only thing I doubted was that I would be able to find someone who could actually do that.
Since learning about the BDSM world and what being submissive entails I've never felt more at home, more "me" so to speak. Which leads us to my choice to submit…
My choice to submit is a gift. It isn't a gift I would give away flippantly. I knew that choosing to be a slave would be the last real choice I'd make. I'm a firm believer that in order to really be 100% submissive (a slave if you will) you have to trust your Dominate partner. In past relationships I kept a bit of who I am hidden. I'd mention my desire to be manhandled to a guy and watch as he freaked out at the thought or freak out eventually as I went (lightly) into more detail about what that meant to me. I told a guy that I wanted to be bound and tied to the bed, only to have him laugh thinking I was joking around. It got to the point where I stopped mentioning what I wanted to try or what I was into or what kind of porn I looked at because the reactions I always got were so negative.
With Master though it was different. We were friends first and so talking about anything and everything was already on the table. It was infinitely easier for me to talk about what kinds of kinks I thought I'm into with him partly because we weren't involved and partly because he made me feel as though my desires were not only normal, they were hot! I told him about finding Literotica.com and how some of the stories really caught my interest. I told him about my desire to be tied up and overpowered. He loved it. He would share sites he liked with me. It was comfortable and fun. Around the time that we started dating I discovered more information about BDSM and shared it with him.
The more we researched the topic of a Master/slave relationship the more intrigued we were. He started pointing out that throughout our friendship I'd always been fairly submissive to him. I pointed out that I enjoyed it and that I desired to continue to be submissive to him. I researched the differences between being a submissive and being a slave. One of the defining differences is that a slave doesn't set limits. For example a sub might say "I'm not into anal, that's one thing I'll never do" where as a slave would say "I'm not into anal, but if you asked me to I'd comply". When Master asked me which I thought I was (slave or submissive) I told him that from everything I've learned thus far I was his slave. It slipped out. I'd meant to say a slave. I'll never forget the way he looked at me and waited for me to correct my statement. When I didn't he walked over and said "And you're a good slave too aren't you?" From then on out I've called him Sir or Master and he's called me his slave (among other things, lol) Over time we discussed the need for rules and  punishments and such but all in all I've never felt so comfortable in my place in a relationship before. Funny how I've found my freedom in being a slave…And I can't wait to be a 24/7 slave when I move in with him!
Thanks for your question!
-ariia